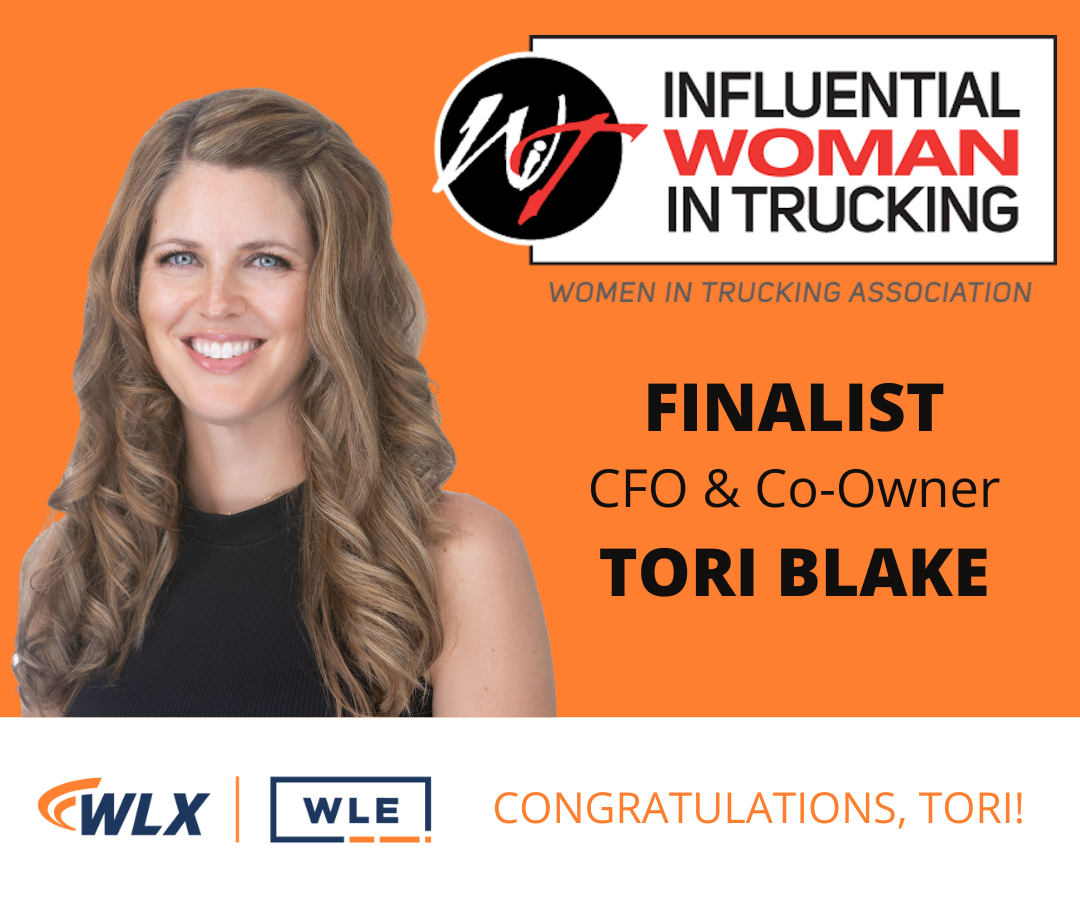 Kansas City, Missouri, November 8th, 2023  – WLX | WLE proudly congratulates CFO and Co-owner Tori Blake on becoming a finalist for The Influential Woman in Trucking Award from The Women in Trucking Association.
The Influential Woman in Trucking Award recognizes female leaders in the industry with the goal of attracting and advancing women in the male-dominated sector. The award highlights the achievements of female role models and trailblazers.
WomenInTrucking.org says of the award, "Women are propelling the transportation industry forward every day through innovative thinking, leadership, and collaboration. This prestigious award was developed in 2010 to honor these women who are making or influencing key decisions in corporate, manufacturing, supplier, owner-operator, driver, sales, or dealership settings, have a proven record of responsibility, mentorship, and serve as a role model to other women in the industry."
Tori is one of three finalists, including Megan Ferguson, Vice President and of End-to-End Delivery Acceleration at Walmart, and Shelley Simpson, President of J.B. Hunt Transport Services, Inc.
"I am truly humbled and honored to be nominated for The Influential Woman in Trucking Award," said Blake. "This recognition is not just a reflection of my own journey, but a testament to the incredible contributions of all the women in the trucking industry. Together, we're driving positive change, breaking barriers, and proving that the road to success knows no gender."
At the start of her career, Tori was an auditor at Ernst & Young, one of the largest accounting firms in the world. She then led a number of other organizations to groundbreaking success and growth.
Blake was nominated in large part for mentoring women in various roles at WLX | WLE. In her position as CFO of WLX | WLE, she is responsible for financial management, talent acquisition, employee development, and strategic visioning, and she passes her expertise on to other women at the organization, further developing the mentees and the organization as a whole.
"Tori is an incredible talent and an even better person," says Sonny Catlett, President and Co-owner at WLX | WLE. "The Women In Trucking organization could not have chosen a better representative of their core values. Everyone at WLX | WLE so incredibly proud of Tori's recognition."
Blake also supports Children's Mercy Hospital in Kansas City by organizing a donation drive of "Sunshine Taggie" blankets, handmade by WLX | WLE employees, to benefit the patients.
WLX | WLE has been one of Kansas City's fastest-growing companies each year Tori has been CFO of the organization, as well as one of Kansas City's best places to work. She was also named Kansas City Business Journal's 2023 CFO of the year.
To find out more about The Influential Woman in Trucking Award, visit https://www.womenintrucking.org/influential-woman-in-trucking.
For more information about WLX | WLE and its logistics services, please visit https://www.wlxtrans.com/.
About WLX | WLE
SUPPLY CHAIN SOLUTIONS FROM THE HEART OF AMERICA – WLX | WLE is an asset-backed supply chain management organization with deep-seated heartland values. Our word is our bond. Integrity is at the root of every decision we make. We always put our customer commitments in front of everything else. This commitment to the customer and innovative solution design is why WLE is one of the fastest growing supply chain managers in the country. WLE and customers are supported by WLX, our asset-based company with dedicated tractors, trailers and driver capacity, direct contact to dispatchers handling shipments, and 24/7 real-time tracking through our state-of-the-art electronic logging technology. Learn more at: https://www.wlxtrans.com. WLX | WLE are part of the R&R Family of Companies.
CONTACT INFORMATION
WLX | WLE
Contact: pr@shiprrexp.com
Website: https://www.wlxtrans.com