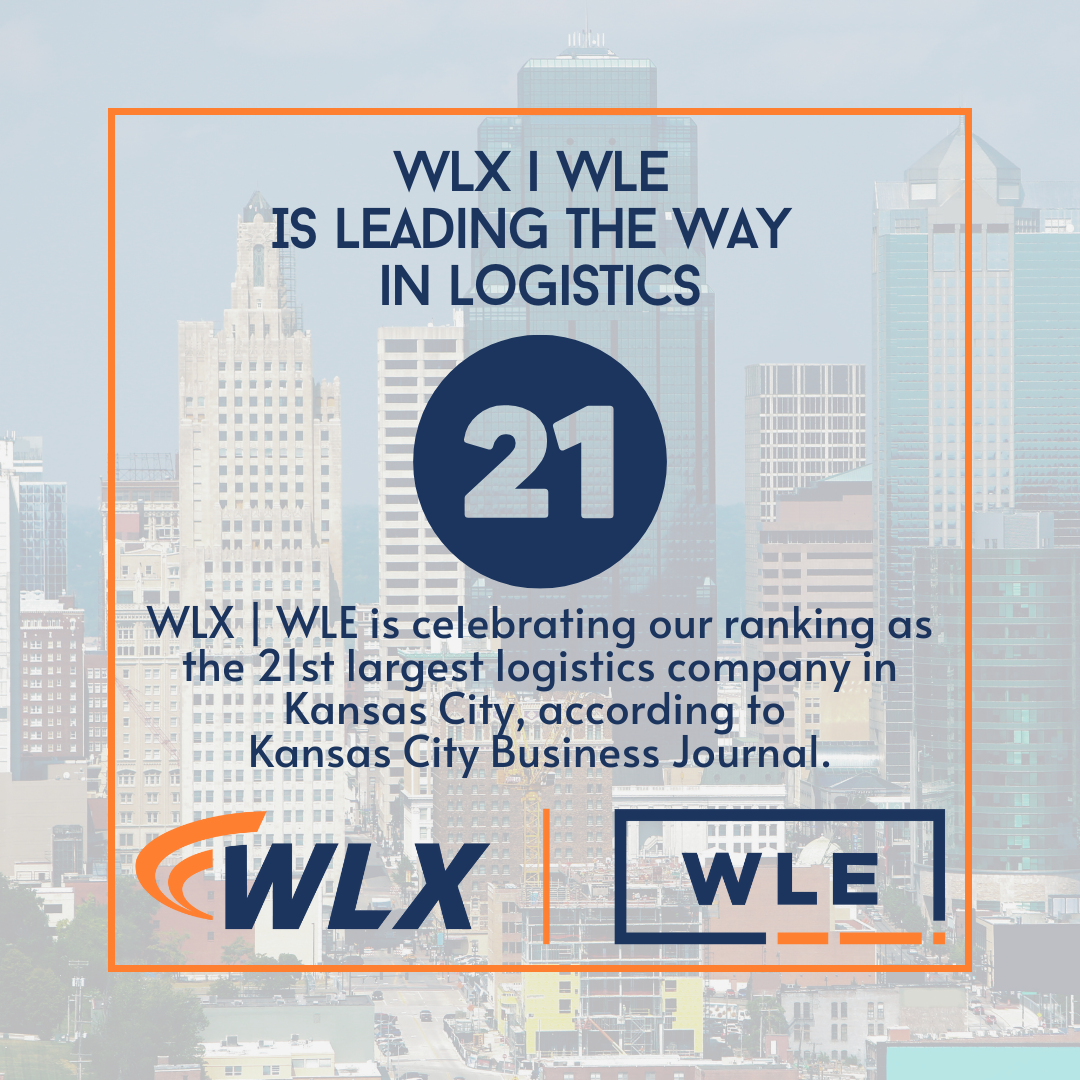 Kansas City Business Journal Ranks WLX | WLE The 21st Largest Logistics Company in Kansas City
NEWS/PRESS RELEASE
October 26, 2023
Kansas City Business Journal has recognized WLX | WLE as the 21st largest logistics company in the greater Kansas City area in the recently released list of "Logistics, Trucking, and Transportation Companies in the Kansas City Metro Area." The rankings, published on September 29, 2023, reflect the number of local full-time employees at each organization.
The comprehensive list highlights the top logistics, trucking, and transportation companies in the Kansas City region. The list can be found on the Kansas City Business Journal website, https://www.bizjournals.com/kansascity/.
WLX | WLE, headquartered in Kansas City, has experienced substantial expansion in recent years, and this recognition is a reflection of the company's hard work, innovation, and superior customer service. The company offers various logistics services, including freight brokerage, transportation management, and supply chain solutions.
"As we celebrate being named the 21st largest logistics company in Kansas City by Kansas City Business Journal, we are truly grateful for the trust and support of our clients, partners, and our dedicated team of professionals who have been instrumental in our growth," said Sonny Catlett, President of WLX | WLE.
WLX | WLE also attributes its success to a combination of a vast carrier network, new, state-of-the-art trucks and equipment, and a team of experienced professionals who are committed to delivering tailored logistics solutions to meet the unique needs of each client.
For more information about WLX | WLE and its logistics services, please visit wlxtrans.com.
ABOUT WLX | WLE
SUPPLY CHAIN SOLUTIONS FROM THE HEART OF AMERICA – WLX | WLE is an asset-backed supply chain management organization with deep-seated heartland values. Our word is our bond. Integrity is at the root of every decision we make. We always put our customer commitments in front of everything else. This commitment to the customer and innovative solution design is why WLE is one of the fastest growing supply chain managers in the country. WLE and customers are supported by WLX, our asset-based company with dedicated tractors, trailers and driver capacity, direct contact to dispatchers handling shipments, and 24/7 real-time tracking through our state-of-the-art electronic logging technology. Learn more at: wlxtrans.com. WLX | WLE are part of the R&R Express Family of Companies.
MEDIA CONTACTS:
Elisa Krakowski
pr@shiprrexp.com