Drive for


Your own team, great pay and other benefits like our Pet Passenger Program make WLX unique, and it doesn't stop there. We have so much more to offer! Our commitment to integrity and excellence means that we want the best for our team and their families. A mix of national and regional routes available means that you can choose what works for your lifestyle.

Apply Now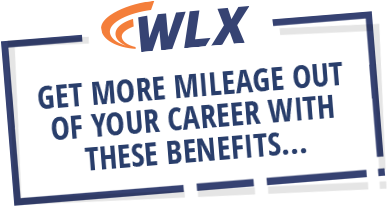 Up to $.72/mile
Starting pay, over dimensional pay, and per diem pay

Your Own Team
Personal dispatcher, maintenance and settlement team

Wellbeing
Health/dental insurance, Rx card, life insurance, 401k, paid vacations and holidays

Orientation
Paid orientation and guaranteed pay for first three weeks

Great Routes
Routes to fit your lifestyle and get you home more often

New Equipment
New equipment and backup tractors to minimize downtime

Paid Accessorials
Tarping, stop-offs and detention costs paid

Pet Program
Our passenger and pet program includes your best friend

Bonus Program
Bonuses for safety and driver recruitment

Training
Industry-leading training for flatbed use, plus other refresh courses


I love my dispatchers, they have a load ready to pick up, before you drop, excellent! Their trucks are top quality, excellent equipment, and quick repairs.
–Johnny S.

I love working at WLX because it is like working with family.
–Sean C.

The commitment to the drivers is a rare quality in a lot of companies, WLX goes above and beyond to ensure we are happy. The communication is top notch and they try to make sure everyone is happy.
–Thomas P